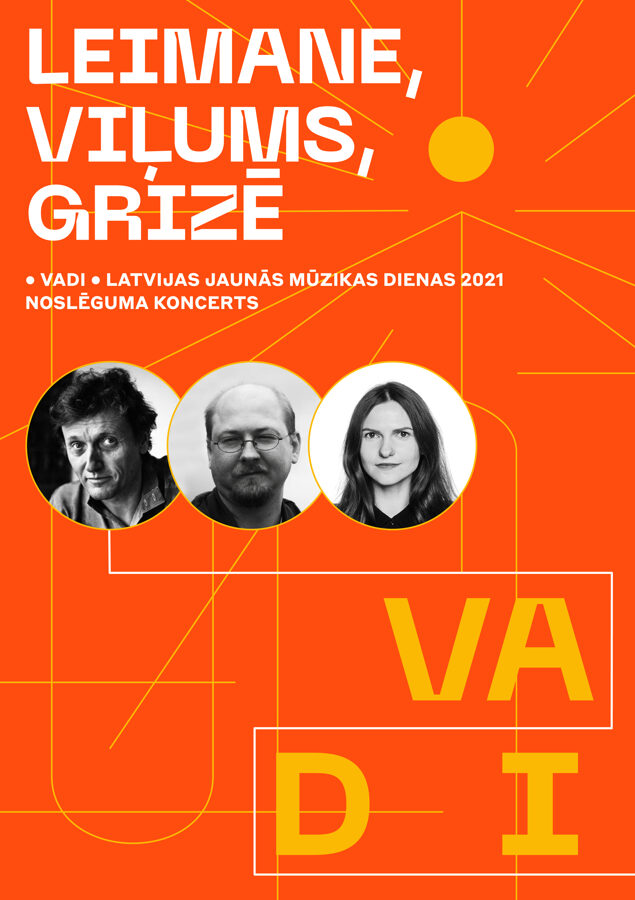 closing / leimane. viļums. grizē

March 6. 19:00, Online Concert
Sinfonietta Rīga, conductor Normunds Šnē
Agnese Egliņa (piano), Egija Veldre (flute), Mārtiņš Circenis (clarinet), Liene Neija-Kalniņa (violin), Ivars Brīnums (viola), Kārlis Klotiņš (cello)

Program:

Linda Leimane "Ray-bows" (premiere)


Mārtiņš Viļums "The Stream of Disappearance" (premiere)


Gerard Grisey "Vortex Temporum" (premiere in Latvia)

The festival Latvian New Music Days will culminate with the on-line concert of Sinfonietta Rīga and conductor Normunds Šnē from the Great Guild on March 6. The program encompass the Latvian premiere of "Vortex Temporum" by the French composer Gerard Grisey (1946-1998) as well as premiere of two pieces of Latvian composers Mārtiņš Viļums and Linda Leimane that accentuate reflections on musical time and space as their predecessor.
The 40-minute long "Vortex Temporum" (1994-96) for 6 musicians (flute, clarinet, violin, alto, cello, piano) is possibly one of the most important chamber music pieces of the later part of the 20th century. Its influence can be compared to the Quatuor pour la fin du temps by Olivier Messiaen that was illustrative of the new compositional ideas of the forties of the 20th century. Grisey's composition confronts different time structures and perception models (Vortex Temporum means vortex of time), combining them with the use of three different types of harmonic series and spatial density of the sound spectrum as well as predictability/unpredictability of the musical flow. The material and form are made of the same formula of musical gesture expressed in different time dimensions. One can say that "Vortex Temporum" brings together all the previous experiences of the composer with sound spectrum, form building and other compositional aspects.

Tickets - 7 EUR
https://ej.uz/leimanevilumsgrize

Festival Passes: 15 EUR (Foot concert for 2 legs - a pass for one person for 5 on-line concerts).

40 EUR (Foot concert for 6 legs - a pass for three persons for 5 on-line concerts)
https://ej.uz/muzikasdienas
Additional information - www.facebook.com/komponisti
Online shows - bezrindas.lv
The festival is supported by the State Culture Capital Foundation, Latvian Radio 3 "Klasika", Riga Latvian Society and the Internet journal "Satori".